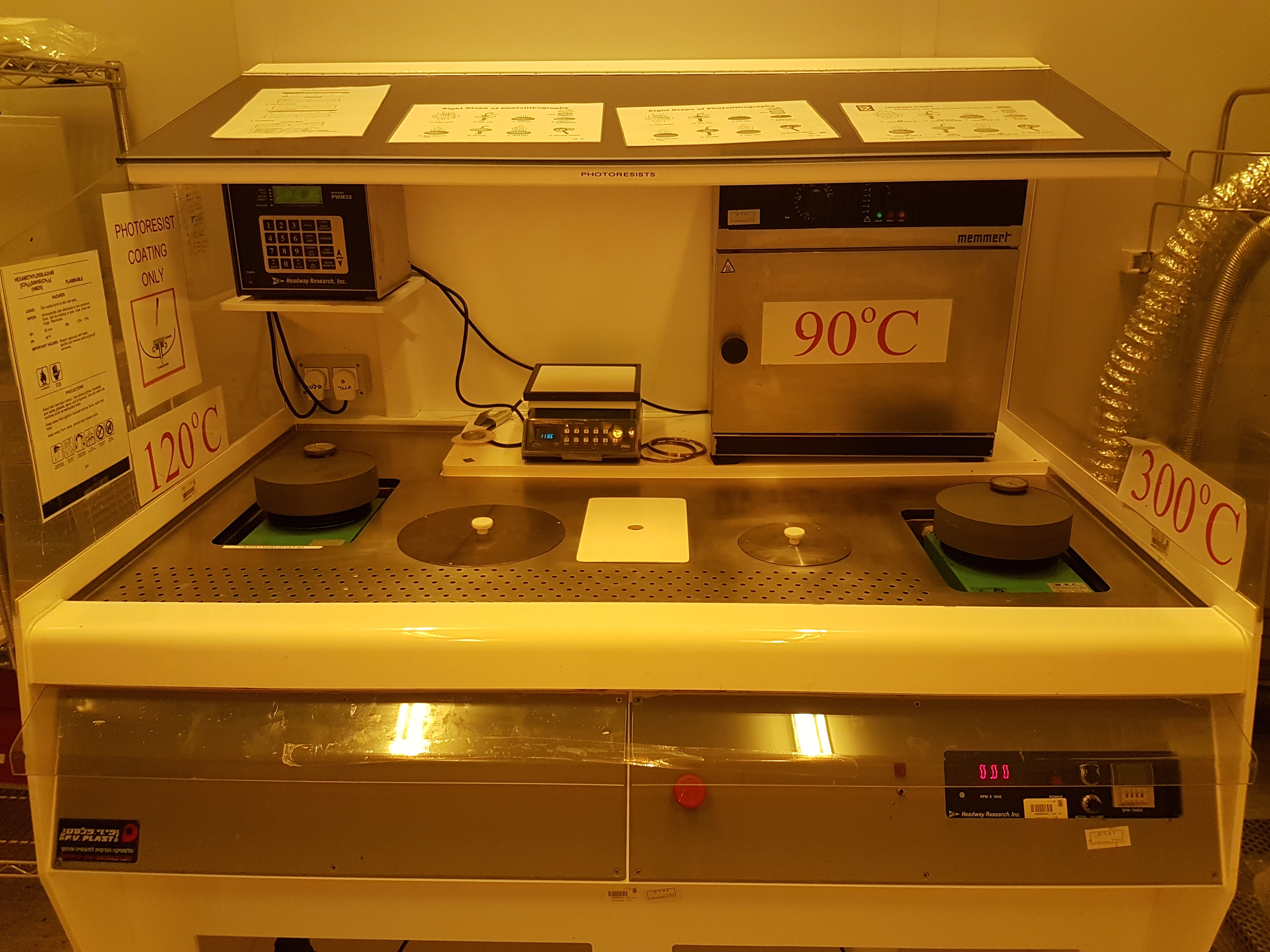 Vendor: PV-Plast
Contact: Tatiana Becker (04-8293250, tatiana@ee.technion.ac.il)
 Dima Peselev (04-8295125, pesel@ee.technion.ac.il)
The bench is located in the Silicon yellow room of Wolfson clean rooms. The bench consists of a large work surface area, two Headway spinners, three hot plates, MEMMERT convection oven and resists chemical storage area.
Digital photoresist spinner (EC101D)
2 types: for 2" and 4" wafers
4″ with PWM32 Controller
2″ with EC-101D\PM-101D motor controller and foot switch
Speed range:  50 to 10,000 rpm
Hot plate (Dataplate PMC series 730)
Microprocessor Based Control of Temperature and Stirrer
Digital Display
Precise Control of Temperature, Stirrer Speed, Time/Temperature/Ramp
Built-in RTD Temperature Sensor Controls the Temperature at Plate Surface
Hot plate with stirrer (Velp scientifica)
Heating plate diameter: 155 mm
Temperature regulation: form room temperature to 250 °C
Convection oven (Memmert)
The Memmert 'U' universal oven range offer unparalleled precise, even and gentle temperature control for a diverse range of applications such as experiments with highly sensitive loads, drying or baking polymers, photoresists, resins or outgassing parts. Precise and homogenous temperature control and stainless steel inside.
Temperature range up to +300 °C
Size 30L
Model variant: SingleDISPLAY
Natural convection or forced air circulation
Programming display