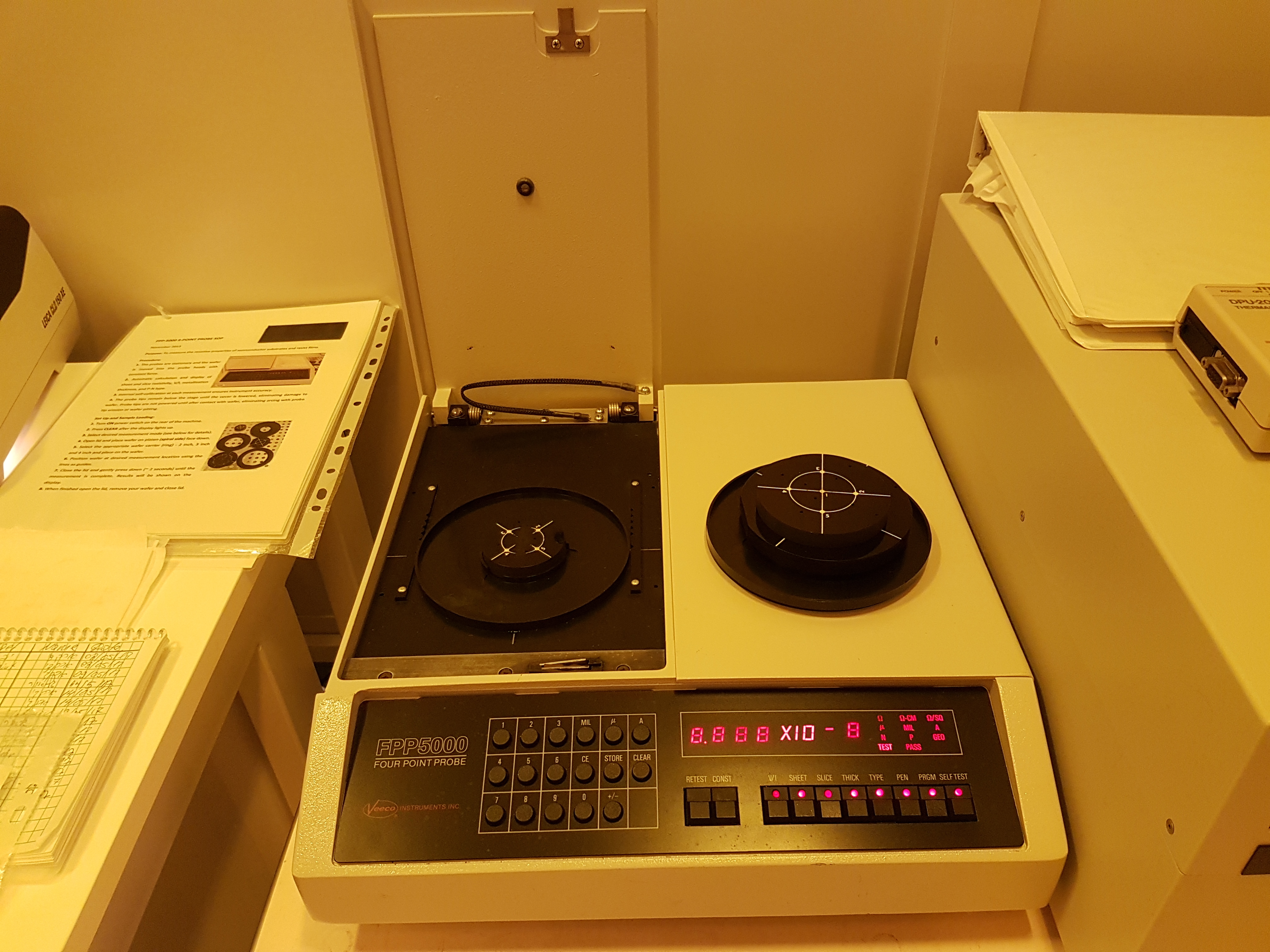 Vendor: Veeco, Model: FPP-5000
Contact: Yacov Shneider (04-8294205, shneider@ee.technion.ac.il)
Measurement of resistive properties of a semiconductor wafer and resistive films.
The microprocessor based electronics permits direct computation of V/I, sheet or slice resistivity, metallization thickness and P-N type testing.
Specifications:
Allowed Materials: Si, Ge, C, GaAs and its compounds, and InP and its compounds.
Prohibited Materials: Organics, greases, and other materials that may contaminate the probes.
Features:
Measurement functions and ranges:

Sheet resistance: 1.1 mΩ/square to 450 kΩ/square
V/I: 0.25 mΩ to 99.9 kΩ
Slice resistivity: 4.12E-2 mΩ-cm to 17.1 kΩ-cm
Thickness: 20 Å to 243 kÅ

Self-calibration and zero circuitry ensure high accuracy of ±0.5% on all readings between 5mΩ to 5kΩ. No more than ±8.0% at the extreme limits of the range.
Plug in probe head adaptors makes probe head changing convenient.
Probe up permits repeatable measurements independent of operator force and substrate thickness.
Integral RFI and light shielding for high resistivity measurements.
Optional penetrate function available to break down thin oxide layers. If selected, a 4 ms pulse of ~170 V is applied to probes before the measurement is taken. This pulse should be sufficient to break through approximately 700 Å of SiO2or 2200 Å of Al203
Optional dopant type test is also available for doped layers. A rectification test is performed first, followed by a thermal test if needed. If the results are inconclusive the N and P indicators are simultaneously illuminated
Automatically performs a reverse and forward measurement each time the cover is closed
Cycle time: the total test time less than 2 sec